03-27-2013
Keeseville Elks Install New Leader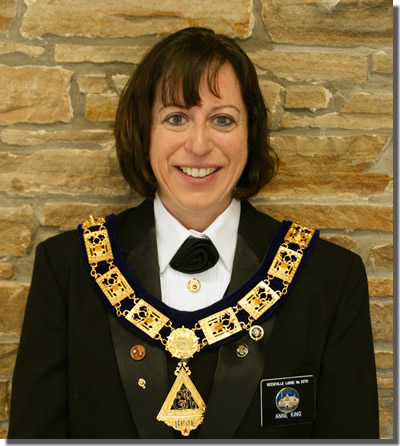 The Keeseville Elks Lodge #2072 recently welcomed their new slate of officers for the upcoming lodge year. Anne King was installed as this year's Exalted Ruler, the president of the local organization. Anne joined the Benevolent and Protective Order of Elks in 2006, after her father Jim King sponsored her entry. Being an Elk is a family affair, as her mother Mary is also a member of the Keeseville Lodge.
Anne's goals for the organization this year include improved public relations, increased fiscal responsibility, and increased attendance at regular meetings. She added, "It is the members who rule this organization. They should feel welcome to come to meetings and let their voice be heard. New ideas and beginnings are inspiring to any organization."
In addition to her community service through the Elks, Anne is a high school mathematics teacher at Northern Adirondack Central School, where is active in several teacher organizations, and a volunteer for the Keeseville Emergency Shelter Committee.
Also installed as officers for the coming year: Mark Allen, Esteemed Leading Knight; Lee Ann Pray, Esteemed Loyal Knight; Phil Mero, Esteemed Lecturing Knight; Jason Witherwax, Secretary; Sheila Vanags, Treasurer; Kevin Greene, Tiler; Clayton Barber, Esquire; Jim King, Chaplain; Bryan Baraby, Inner Guard; and Tom Golden, Trustee.
The Keeseville Elks Lodge #2072 is a proud member of the Benevolent and Protective Order of Elks of the United States of America. The Order spends more than $80,000,000 every year for benevolent, educational and patriotic community-minded programs in such fields as benefitting physically handicapped children, sponsoring Elks National Foundation scholarships, scouting, athletic teams, veterans' works, a national "Hoop Shoot" free-throw contest involving more than 3 million children, physical and occupational therapy programs and patriotic programs. For more information, please visit www.elks.org.
PHOTO CAPTION: Anne King was recently installed as the Exalted Ruler of Keeseville Elks Lodge #2072.
[A photograph for media use is available at http://www.keesevilleelks.org/News/Photos/AnneKing.jpg .]